From the artwork to the print, how does it work?
From the original artwork, we have 3 ways of creating a print:
#1. the 2D placed pattern / panoramic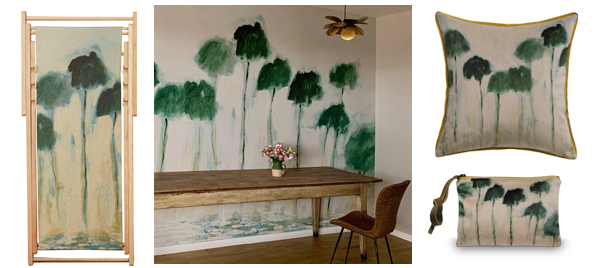 The 2D placed pattern is obtained by adapting the painting at a special size and scale. It is made by cropping and playing with the scale of the pattern before it is printed.
This is valid for small sized objets like our accessories' collection as well as larger as the panoramic wallpapers.
The result is always a rectangle to be printed at the wished size.
#2. the 3D placed patterns / furniture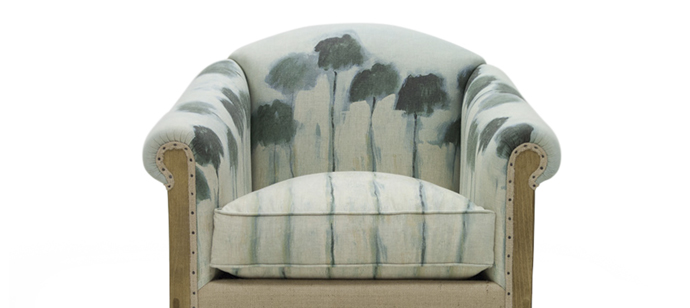 The 3D placed patterns are an extension of the 2D, it adapts the operation to the furniture upholstery.
The print is placed on the different pieces of fabrics needed for the upholstery, so the print matches from one part to the other.
Several rectangles of different sizes will be printed, for example, one for the back, one for the seat, one for the arm, one for the welts etc.
#3. the repeated patterns / allover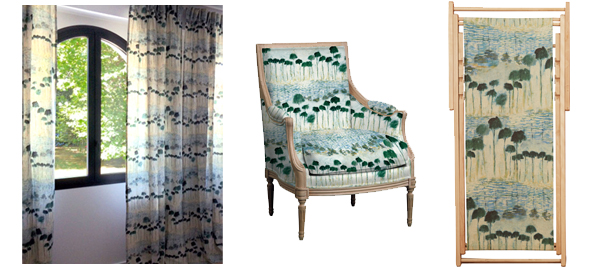 The repeated pattern is a pattern with a repeat that continues allover the basecloth and is always at the same scale.
On fabric it is adapted to the width of the fabric, 140 cm, and for the wallpapers it can be adapted for a roll of 50 cm wide.
The different art works can be adapted to only some type of print.
To know which ones you need to look at description of the pattern in the prints library.